Swift Runner Ministries was founded in honor of our 14 year old son, Trenton. Trenton's name means "Swift Runner" and his dying wish was for us to do something so that other children would not have to go through the treatment that he went through.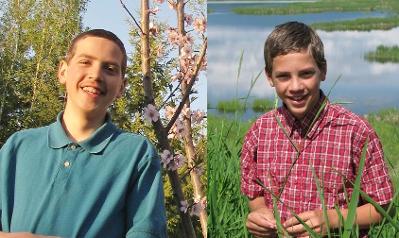 It all began in July of 2012 while Trenton was 13 years old. We were invited out to eat at a restaurant by an acquaintance. Within a couple of hours after eating that meal, Trenton developed a slight stomach ache and sore throat. We treated the sore throat with natural remedies and it went away. After awhile we noticed some tiredness. For several days, we just thought that Trenton was exaggerating in order to get out of doing his chores and so we didn't take it as seriously as we would have otherwise. (We actually didn't connect the problem to the meal for a week or so.) Trenton also developed some bruising around his eyes.

About 3 weeks later, he began developing bleeding in his eye and then he started having blood in his urine. One problem that we had was, because of his sick feeling, it was difficult to get Trenton to drink enough fluids. Several websites that I checked out listed his symptoms as symptoms of some sort of poisoning. Another acquaintance came by and looked at him and said that we had better take him to the hospital.
Although opposed to modern medicine and drugs, I gave in and took him to the emergency room (the biggest mistake of my life), thinking that if it was poisoning of some kind, they could just identify the problem and then I would know how to treat it. They hooked him up to a saline solution IV and within minutes they had him stablized - just by giving him fluid.
When they ran the blood test, they claimed that he had Leukemia, that his White blood cell count was over 200 and said that they would have to transfer him to the children's hospital - which they did in an ambulance. (A normal White blood cell count should be between 4.5 and 13.5) (A normal reading of Blasts - which are baby White blood cells - should be 5% or less, and Trenton's was well over 70%)
At the new hospital, we were placed in a room, then the doctor, several nurses, a PR representative, and a social worker, all came into the room and the doctor informed me that they were going to give Trenton chemotherapy.
Being totally opposed to such things as chemotherapy - I refused and said that we would figure out some natural treatments for Trenton.
I was informed by them that I had two choices. I could either sign the paperwork and go along with their chemotherapy treatments, or if I continued to fight their decision, the state would take my son away from me and they would give him the chemotherapy anyway!
In short, in August of 2012 Trenton was diagnosed with Acute Myeloid Leukemia and forced by the modern medical establishment and the state, to undergo 5 months of heavy chemotherapy.
(We would here like to state that although we are entirely opposed to drugs of any kind, we realize many nurses and doctors sincerely want to brighten what may be the last days of a patient's life. Trenton hated the chemo, but told me more than once that all this would be worthwhile if it meant the salvation of any one of his nurses, etc..)
After many "reactions" to the numerous drugs that he was submitted to, and several "close calls" and a trip to the ICU, the 5 months of chemo were over, and Trenton was released from the hospital at the end of December with the advice that the Leukemia was in remission, but we still had to return every month for follow-up exams.
For three months, life moved along (not normal, but better than at the hospital, although we saw a few hints of hearing loss and "tired" bone marrow in March) - then in April, the doctor said that his blood test showed that the leukemia had come back. Trenton's blast count was 56% and his platelets at 28. Surprisingly, they informed us that they could do more chemo or a bone morrow transplant but that it would only extend his life a few weeks or so. They said that it would probably not put it into remission again - and they kindly let us "opt out" of more chemo treatments.
We decided to try to fight the overwhelming odds and try out all the harmless herbs and juicing, hydrotherapy,etc. to try to fight for the life of our son. He wanted to stay home and live life as normally as possible so we hiked, canoed, biked and even took a canoe camping trip with herbs and juice in tow, with home-dehydrated, organic food.
But life wasn't normal. Trenton had been so toxed out on the chemo and drugs that he couldn't go in public restrooms that had just been cleaned without being affected. Just walking past the chemical isles in stores or being around people in public that were wearing deodorant, cologne, perfume, hairspray, etc. would set him off. His eyes would grow dark and he would get sick to his stomach (Sick feeling would go away when he returned to the outdoors and normal air). We had to have all the people that visited our house de-chemicalized, even to the point of rewashing their hair, just so he could come back in the door. His hearing continued to deteriorate and his eyesight started disappearing. He developed a white film on his eyes. He vomited up pieces of flesh which were later confirmed by a doctor to be pieces of his stomach.
Five days before he died, blood tests show that his blasts were down to 23% and his white blood cell count, even though it was elevated, was 2/3 less than it had been when we originally took him to the hospital. The natural remedies appeared to be fighting off the cancer, but Trenton died June 9, 2013. So why did he die? His counts suggest that his bone marrow was dead from the chemo and unable to replace the blood cells. Tests had also shown his heart had been negatively affected by the chemo.
We realized more than ever that God had blessed us with five additional months of life to spend with Trenton in which we were able to learn even more natural remedies. (Hydrotherapy in particular gave Trenton needed relief from pain) We firmly believe that although Trenton's death was outside of God's ideal plan, God works ALL things together for good to those who love him.
We would like to help teach others the things we've learned about how to deal with disease. First, how to avoid sickness in the first place-An ounce of prevention is worth a pound of cure. And second, how to use God's methods of healing to enhance the bodies own God-given ability to heal. And third, to expose Satan's counterfeit method of "healing by poison" for the killer that it is. We hope this ministry will help you be a swift runner in the race to health.
For More Info including
Leukemia Lessons
and
The Chemo Nightmare Continues
Click below
Our Team
Swift Runner Ministries is provided for you by the parents and family of Trenton.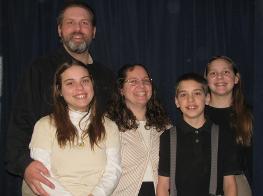 Dallas (father) serves as President and webmaster. He is also the director of our sister site --Bible Picture Pathways. His health training experience includes helping to deliver all four our children, 5 months of on the job training and chart reading in the hospital with Trenton, caring for his wife for 3 months after her adrenal crash as well as giving first aid for multiple other accidental injuries his family members have incurred through the years. His duties for Swift Runner Ministries include researcher, finance manager, DVD duplication and shipping. He also up keeps our YouTube channel and e-mail public relations. We thank him especially for his research contributions to our video documentaries "Invisible Danger" and "Pharmakeia--the Sorcerer's Wand".
Susanna (mother- pictured center) serves as Director of Swift Runner Ministries. Studying health has been a hobby of hers for many years. Her time spent working as a mother and at a health food store only increased her desire to learn. Although she is primarily self-taught (with God as an excellent tutor) she holds a Diploma in Human Nutrition and has completed a basic training course for Gospel Health Education in hydrotherapy and other natural treatments from MEET ministry. Over the years, she served as Health and Temperance leader for her local church and has directed cooking classes, fair booths and health seminars. She has authored several little health booklets for sharing as well as two cookbooks. Her duties for Swift Runner Ministries include writing health articles and recipes for the newsletter and also script writing, narrating and compiling health documentaries.
Rachel (sister- pictured left) is a CBE (Certified Childbirth Educator) and enjoys studying and teaching about the health of women and babies. She frequently compiles and designs all the articles for the newsletter and she has authored several health articles including one on EMFs. Her own experience has contributed greatly to our knowledge of the "Invisible Danger." We are thankful to her for her research and cheerful helpfulness wherever it is needed. She is now currently residing with her husband, Jacobus in Namibia, Africa.
The two younger siblings are our writers and illustrators for the Little Runner's portion of the website and newsletter. One uses their musical talents often and contributed greatly to the music for "Pharmakeia" by computer-generating almost all the music, while the other frequently uses their 3-D modeling talents to create needed pictures and animations for our health documentaries.