Layer granola,
your favorite fruit
and yogurt or topping in a parfait cup.
Repeat until the cup is full. Garnish with fruit.
Cream for Parfaits
¼ cup raspberry juice concentrate
2 Tbsp honey
1 pkg extra-firm silken tofu
Blend until creamy.
Layer with fresh or frozen fruit and granola.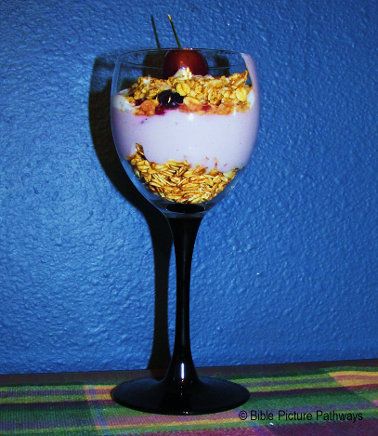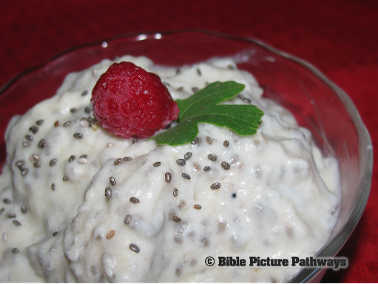 1 can organic coconut milk
3 ripe bananas
1 can crushed pineapple in its own juice
Honey, to taste
1/3 cup chia seeds
Blend all except the chia seeds until smooth. Add chia seeds in a bowl and refrigerate overnight or until chia seeds swell and create a pudding-like consistency
1/2 cup almond (or peanut) butter
3 Tbsp honey
1 Tbsp roasted carob powder
1/4 tsp salt
1 cup pitted dates boiled in 2/3 cup water with 1/2 tsp vanilla
1 tsp Pero or Roma (coffee substitute)
Place in food processor and process until smooth and creamy. This is delicious as a spread or as a dip for apples or strawberries!
Fruit Pizza with Pear Cream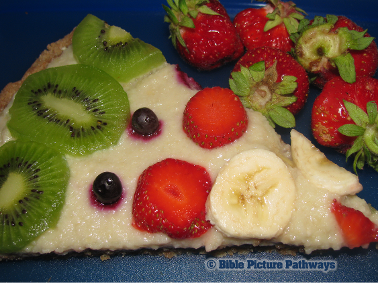 1/3 cup of olive and coconut oil blend
1/3 cup organic sugar or coconut sugar
2 Tbsp finely ground flaxseed soaked in 1/3 cup water
1 cup oat or coconut flour
1 cup whole wheat flour
1 tsp salt
Combine in a bowl. Press onto a 14-16 inch pizza pan. Bake at 350◦F for 8-10 minutes. Remove from oven and top with Pear Cream or Strawberry fruit whip. Decorate with different colors of sliced fruit.
Pear Cream
1 (15oz.) can pears, with juice
¼- ½ cup cashews
1 tsp alcohol-free vanilla
1-2 Tbsp honey, optional
Blend in the blender until smooth. Sometimes I dump off part of the juice for a thicker cream. This may also be made with fresh pears when available, although it will brown quickly. Almonds may be used to replace cashews if desired.
1 can chunked pineapple, in its own juice
Dried Chipped Coconut
Fresh or frozen Blueberries or Huckleberries to accent
Grate apples into pineapple juice to keep them from browning. Add remaining ingredients, adding berries last.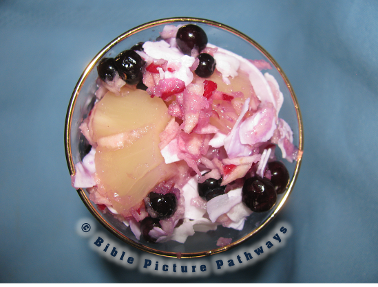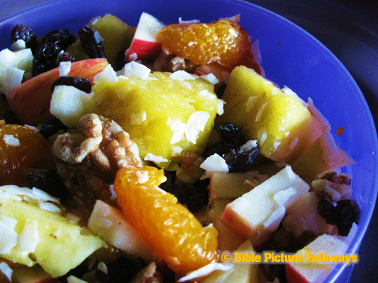 (All ingredients amounts
are approximate as fruit sizes vary greatly)
1 or 2 Apples, chunked
1 can pineapple, chunked with juice, or use fresh pineapple
2 or 3 oranges, carefully sectioned or mandarin oranges
A handful of raisins or dried cranberries
Shredded coconut or coconut chips, as desired
Broken walnuts, optional
Put in oranges and pineapple with juice first, it will keep the apples from turning brown as fast. Then cut in apple chunks and add remaining ingredients. Stir gently.
All recipes and pictures © Bible Picture Pathways (Parent organization of Swift Runner Ministries)--Not to be used for commercial gain