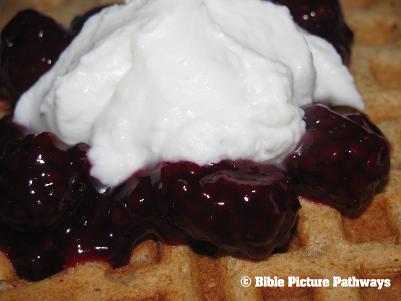 1 13.5oz can coconut milk
½ +cup organic powdered sugar
¼ cup soymilk powder or oat or rice baby food powder
1/2 tsp vanilla powder
Place coconut milk in refrigerator for 4hrs.
Then pour off liquid. Mix with electric mixer old fashioned egg beater.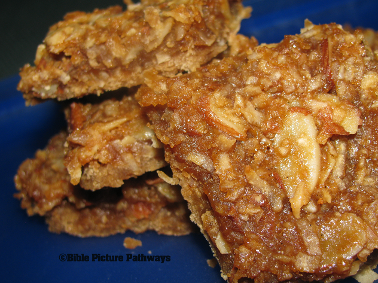 ¼ cup applesauce OR 2 Tbsp ground flaxseed and water
1 cup whole wheat flour ½ cup sucanat
Mix and press into 13×9 pan. Bake at 350◦F for 10 min.
Then spread with: Coconut Topping
1 tsp vanilla 1 cup sucanat ½ tsp salt
6 Tbsp flour 1 cup slivered almonds
½ cup soymilk 1 cup shredded coconut
Mix together, spread over crust and return to oven to bake 25 minutes or more. Cool and cut into bars.
Homemade Carob Chips and Carob Chip Cookies
¾ cup roasted carob powder ¼ cup sucanat, powdered fine
1 cup coconut oil
1 tsp Pero, or other cereal coffee replacement
Place all ingredients in a double boiler. Warm until melted. Mix together well. Line a cookie sheet with parchment paper that has been oiled with coconut oil. Spread mixture parchment paper. Allow to cool in the refrigerator. When hardened, remove from parchment and break into chips. You may also choose to just make carob drops with a spoon on the parchment. Store chips in a container in the fridge or freezer. I freeze these first when I use them in carob chip cookies and they seem to hold together quite well.
Carob Chip Cookies
½ cup oil
½ cup applesauce
1 cup sucanat
1 cup quick oats
½ cup soymilk
1 tsp vanilla
1 cup whole wheat flour 1-1 1/4 cup unbleached flour
½ tsp salt
½ cup nuts (optional)
¾ cup homemade OR Non-GMO vegan barley malt sweetened carob chips
Preheat oven to 375◦F. Combine applesauce, oil, sucanat and sugar. Add soymilk and vanilla. Mix thoroughly. Add other ingredients leaving chips until last. Place on oiled cookie sheet or parchment. Bake 10-12 minutes. Variation: You may use all spelt flour.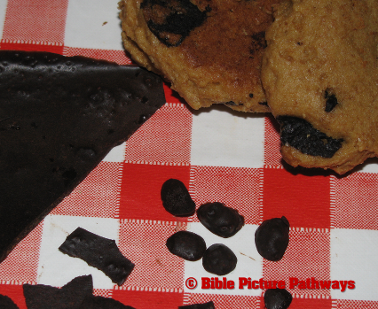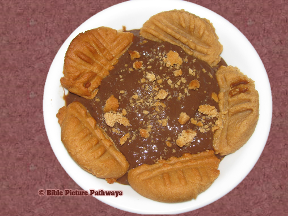 Carob Pudding
1 can (13.5 oz./403 mL) coconut milk
11⁄2 can refilled with soymilk (refill the coconut milk can 11⁄2 times)
1 1/3 cup coconut sugar or sucanat
6 Tbsp cornstarch (arrowroot may be substituted)
4 Tbsp roasted carob powder
1 Tbsp Pero or other cereal coffee substitute
3⁄4 tsp salt
Mix all the ingredients together in a saucepan. Whisk on stovetop
at medium heat until thickened. Refrigerate overnight. Add peanut
butter cookies for a garnish if desired.
Peanut Butter Cookies
1⁄2 cup peanut butter
1⁄2 cup honey
1⁄4 cup olive oil
1⁄4 tsp salt
1⁄2 tsp powdered vanilla, optional
1 1⁄4 cup whole wheat pastry flour or spelt flour
Cream all ingredients except flour together first. Add
flour and knead until a you have a formable dough,
adding more flour if necessary. Form into balls. Place on
a cookie sheet and flatten with a fork (a plastic fork works
best for this). Bake at 350oF ((180 oC) for 10 minutes.
Let cool on cookie sheet before removing.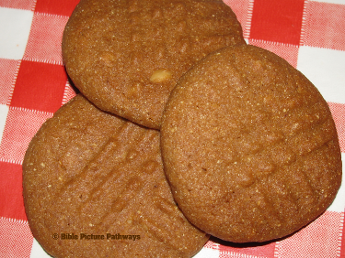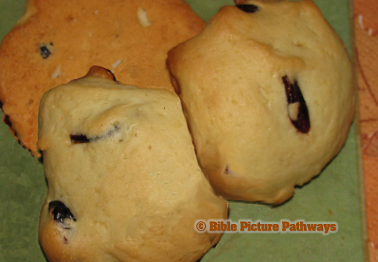 3/4 cup orange juice
1/4 cup oil
1/4 cup applesauce
1/2 cup Soy or coconut Milk Powder
1 cup organic sugar or Florida Crystals
dried cranberries
Approximately 4 cups flour to a cookie dough consistency
(I use a combination of 1 cup oat flour, 1 cup millet flour, 1 cup whole wheat and 1 cup unbleached for a lighter tasting cookie--Too much whole wheat will mask the subtle orange flavor) Add desired amount of dried cranberries.
Mix ingredients together adding flour and cranberries last. Roll into balls or use a cookies scoop and bake on a nonstick pan at 350F until lightly browned. Enjoy!
2 (9-inch) unbaked pastry shells
2 (15 oz.) cans pumpkin
1 can coconut milk
1 1/3 cup organic sugar
2 Tbsp agar powder
1 tsp salt
2 tsp total cinnamon/ginger
Preheat oven to 425◦F. Combine all ingredients. Pour into shells. Bake 15 minutes. Reduce oven to 350◦F. Bake 35-40 min. longer or until knife 1" from the edge comes out clean. This will need to cool awhile to really set well. Best made the day before serving. Serve with Coconut Topping or Tofu whipped Topping (pictured).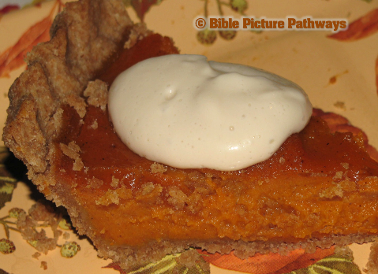 1 ½ cup flour 1 Tbsp + 1 tsp organic sugar
1 tsp salt ½ cup oil
2 Tbsp soy or nutmilk
Combine above ingredients and press into a 8" deep dish pie pan. Add your favorite pie filling and bake.
Tofu Whipped Topping
1 pkg. firm silken tofu
1/2 cup organic sugar
1/8 tsp salt
1/4 cup soymilk powder
2-3 Tbsp light olive oil
1 tsp powdered or no-alcohol vanilla (optional)
Rainbow Sherbet
Truth is, more often I make these flavors separately than together.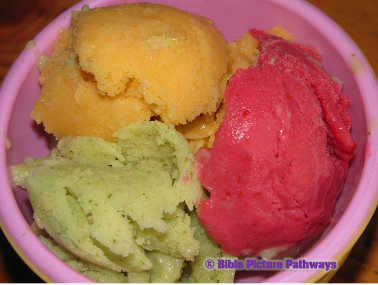 1 cup lemon or lime juice 1 ½ cups organic sugar
3 cups of soymilk pinch of salt
Blend and pour into ice cream freezer. I add 3 Tbsp Spinach powder for lime color.
Orange Sherbet -Creamsicle
1 cup orange juice concentrate
1 cup organic sugar
1 medium carrot, grated
3 cups soymilk
Pinch of salt
Blend until smooth. Pour into ice cream freezer and freeze.
Raspberry Delight Cream (Sherbet)
1½ cups soy or nut milk
1 cup organic sugar 3 ¾ cup frozen raspberries
Blend. This will probably require a VitaMix or Blend-tec blender as it is very thick when blended.
Note: You could probably make this with any frozen berry.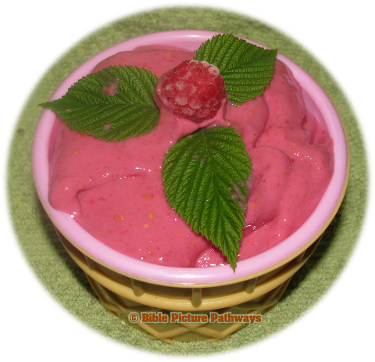 7 cups cereal (your choice)
¾ cup honey
½ cup vegan milk powder OR oat/rice baby food powder
1 scant cup organic sugar
¼ cup molasses
1 ½ cup nut butter
1 tsp vanilla or almond flavor, optional
Spray 9x13 pan. In 2 qt. saucepan stir together vanilla, honey, molasses and sugar. Bring to a boil until sugar is dissolved. Add nut butter. Mix together other ingredients and press into pan. Let stand until set, cut into bars.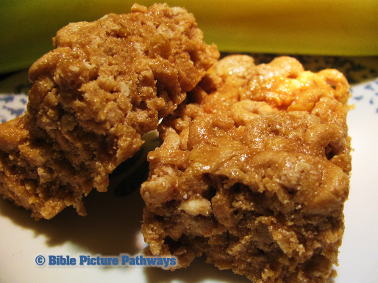 Sneaky Bars
1 cup each kind of nuts- cashews, brazil nuts, almonds, pumpkin seeds (You may create your own combination)
1 cup peanut butter 1 cup honey
¾ to 1 cup carob powder (I like the roasted variety)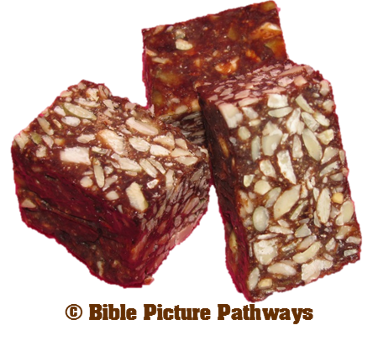 Chop nuts into chip sizes, and add peanut butter and honey. Add carob powder until stiff and "half the bowl" sticks to the spoon.
Spread onto a freezable pan lined with saran wrap. Use a wet spatula to smooth the top. Freeze. When ready to eat, pull saran wrap out so you can cut the bars into squares on a cutting board.
All recipes and pictures © Bible Picture Pathways (Parent organization of Swift Runner Ministries)--
Not to be used for commercial gain