Steamed Cabbage and Better Franks
1 head of cabbage cut in squares
8-10 homemade better franks
1 Tbsp oil
1 cup or so of water
Lawry-like seasoning salt to taste
Steam cabbage in water and oil in a frying pan with a lid until the cabbage is somewhat cooked. Add sliced better franks and cook until cabbage is soft and most of the water is gone. . Serve warm.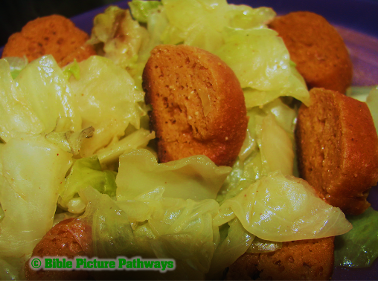 Better Franks
½ cup almonds 1 tsp paprika
1 ¾ cup water 2 tsp nutritional yeast
1 tsp coffee substitute, Pero* ¼ cup oil
½ can tomato paste, 6 ounce 1 tsp salt
1 tsp onion powder 1 tsp garlic powder
2 tsp Lawry's seasoned salt 2 Tbsp Non-GMO soy flour
2 cups vital wheat gluten flour (more if necessary)
Blend all the ingredients together except the flour. Mix the flour thoroughly in a bowl. Add the blended ingredients quickly and mix by hand until stiff dough forms. Form into desired shape and bake at 350◦F on a prepared cookie sheet for 25-30 minutes.
You can also wrap these in parchment paper and aluminum foil, twist them like a tootsie roll and then steam them in a little water in a 9x13 pan. (Note: These make a nice treat for camping if you cover with a very thin layer of camp bread and toast over the fire like a corndog.)
Gluten-free option: increase almonds to ¾ cup and replace gluten flour with 1 cup quick oats and ¼ cup potato flour, ¼ cup tapioca starch, and ¼ cup bean, potato, or rice/millet flour. Add more flour if necessary to form franks. (This recipe is similar, but not quite the same.)
* "Pero"
is a caffeine-free coffee substitute made of barley
Baked Crinkle Fry Potatoes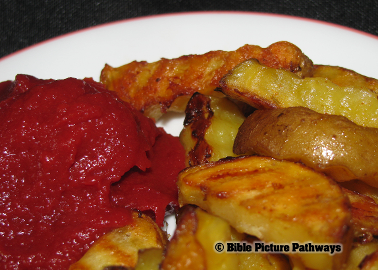 Scrub potatoes. Cut into French fry shapes with a crinkle cutter. In a bowl add about 3 Tbsp of olive oil. Add Lawry-like seasoning to taste. I like to use red potatoes and leave the skin on. Many of the nutrients and flavor in the potatoes is right next to, or in the skins.
Catsup
6 oz. tomato paste ½ tsp salt
2 Tbsp honey (more, to taste) 2 Tbsp lemon juice
Garlic and onion powder to taste
water, as needed
You may blend this, but I often just mix it by hand thoroughly. Add water to the desired consistency. Freeze in between uses or use within a week. This may be put in a squeeze bottle if desired.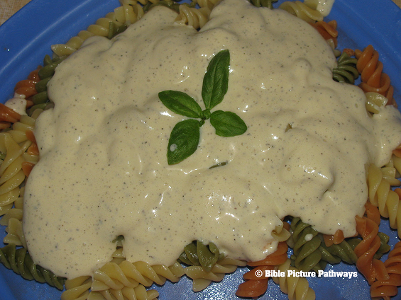 10. 5 oz. package silken tofu
1 or 2 cloves of garlic
1 cup soymilk
1 ½ tsp potato flour
1 Tbsp olive oil
3 ½ Tbsp nutritional yeast
1 tsp salt
1 tsp onion powder
1 tsp basil
1 tsp dried parsley
Blend all ingredients together and warm over medium heat. Serve over noodles.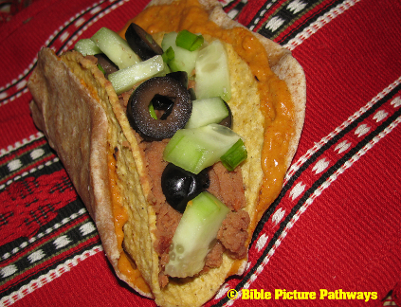 Layer Soft Taco or Burrito Shell first.
Then Spread with Velveeta-like Cheese
Add a corn taco or corn tortilla chips and fill with vegetarian refried beans.
This leaves room for olives, and other veggies and holds it all together.
Homemade Flour Tortillas
Combine ingredients
1 1/2 cups unbleached flour
1 1/2 cups whole wheat flour
1/2 tsp salt
3 Tbsp olive oil.
1 cup water - Add water until the dough holds its shape and can be formed into a ball. Cover and let rest 20 minutes. Divide into balls and roll out thin or press in a tortilla press. Heat skillet. Do not oil skillet. Fry on each side until it begins to brown, Approximately 30 seconds. Remove to place and keep covered with towel until use.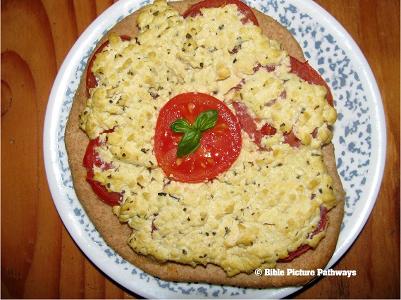 Pita Pockets or Pizza Crust
4-5 Roma or Paste Tomatoes, sliced
1/4 cup nutritional yeast
1 lb block tofu, mashed
1 tsp vegetable salt
1 Tbsp basil
1 garlic clove, pressed
1 tsp onion powder
1/2 cup tofu mayonaise/sourcream (silken tofu, oil, lemon juice, blended)
Slice tomatoes onto crust. Mix remaining ingredients together in a bowl. with a cookie scoop place topping over the tomatoes and then spread out to cover. Bake 15-20 Minutes at 375F. Serve warm.
All recipes and pictures © Bible Picture Pathways (Parent organization of Swift Runner Ministries)--Not to be used for commercial gain