Almost an Omelet (Soy-free)
½ cup onion, chopped (optional)
¼ cup bell pepper, diced
1 tsp garlic powder
¾ cup precooked millet
½ cup water
1 tsp nutritional yeast
1 tsp Mock Aminos, optional
1 Tbsp cornstarch
1 Tbsp cornmeal 1 tsp salt
¼ cup sunflower seeds Tumeric for color, optional
Blend all except the pepper and onion. (Add more water if necessary to make this blendable. Stir in pepper and onion. Bake on a cookie sheet in 4 round circles at 400ºF (200ºC) until firm and somewhat crusted on both sides. (15-30 minutes) You may need to flip these over halfway through or move them from the top to the bottom of the oven.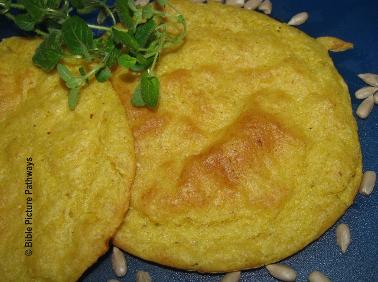 Breakfast Pizza
Use pita pockets for a crust or make a biscuit crust.
Top with scrambled tofu, better franks, and vegan cheese (sesame cheese).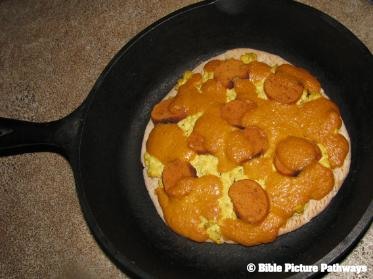 Scrambled Tofu
1 pkg. 16 oz. pkg. water-packed tofu
1 tsp chicken-like seasoning
1 tsp Lawry's- like seasoning
Mash tofu and scramble in skillet over medium heat until flavors are absorbed and tofu turns a light yellow color.
Southern Johnny Cakes-(Gluten Free)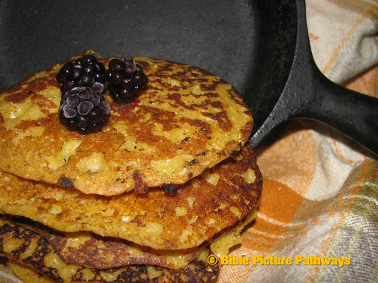 2 cups cornmeal (make sure it's very finely ground)
1 tsp salt
3 Tbsp olive oil
2 Tbsp sucanat
½ cup soy or nut milk
Mix all these ingredients together. Add 2 cups boiling water.
Add to make a fairly soft batter, but one that will hold its shape. If too thick, add a little extra water. Drop by large spoonful's onto ungreased griddle and flatten to ½ inch thickness or less. Turn over when it is lightly browned around the edges then cook the other side. Serve with applesauce or maple syrup.
Tip: Make sure the cornmeal is VERY fine- like flour and the water is BOILING or this recipe will not work. If it fails you may add flour to desired consistency.
Homemade Grape-nuts (Little Nuggets Cereal)
2 cups whole wheat flour
½ cup millet flour
1/3 cup sucanat
1 tsp salt
2 cups soy or nutmilk
1 tsp lemon juice
½ cup olive oil
Mix the dry ingredients together and then add the wet ingredients. Spread on a greased 9x13. Bake at 350ºF for 30 minutes or until toothpick comes out clean. Cool completely. Crumble with fingers to desired consistency. Put on two large baking sheets. Bake at 275ºF stirring every 15 minutes for 60 to 90 minutes or until grape-nuts are dry.
Cool, store in a jar.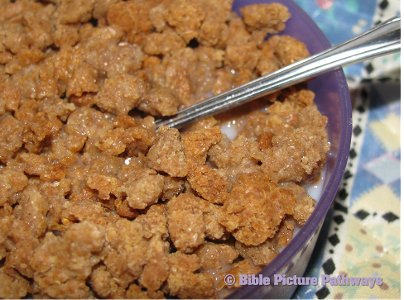 Will keep for several weeks. Yields about 2 quarts. Serve as dry cereal with milk.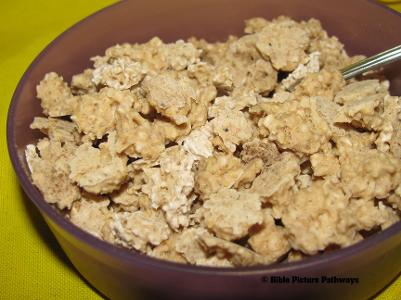 2 cups oat flour
2 Tbsp organic sugar
Mix together and press onto a cookie sheet through the cake decorater bag with a large tip.
Add more water as necessary for easy squeezing. Bake at 350©F until crunchy.
Dehydrate more if necessary.
Yields about 3 cups of cereal.
Serve as dry cereal with milk.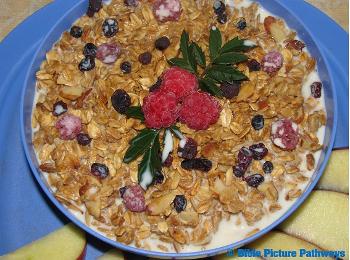 12 cups oats ½ cup oil
1 /2 cup water ½ cup honey
½ cup molasses 1 cup sliced almonds, or more
Mix together. Place on 2 prepared cookie sheets. Toast at 250◦F until lightly browned and crunchy. (Add dried fruit.)
¾ cup whole wheat flour
¾ cup rolled oats
½ tsp salt
2 1/6 cup soymilk
1 Tbsp sucanat or date sugar
1 Tbsp olive oil
Blend until smooth. Cook on griddle on medium heat until done. Spread batter thinly in pan. Cook only on one side. Great rolled with fresh strawberries. Yield: 13 crepes.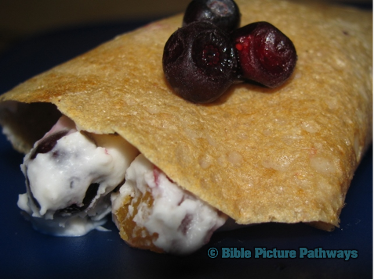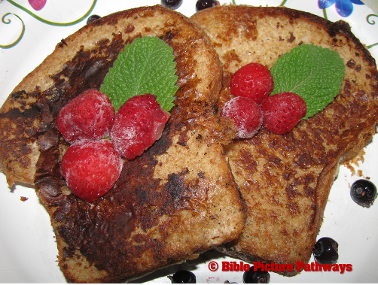 1 pkg. silken tofu extra firm
2-3 Tbsp sweetener
3 Tbsp olive oil Soy, Oat or Flaxseed Bread
Soymilk
Place tofu sweetener and oil in the blender. Fill with soymilk to 3 cups. Dip bread in mixture, fry on PREHEATED nonstick pan or iron skillet. Flip over and fry on the other side. Yield: Approximately 20 pieces.
1 ½ tsp Italian seasoning
1/3 cup Mock Aminos*
2 cups quick oats
2 Tbsp olive oil
½ tsp garlic powder
2 tsp onion powder
2 tsp honey
Combine water and seasonings in a pan. Bring to a boil. Add oats and cook 1-5 minutes. With a scoop place on a prepared cookie sheet and flatten. Bake at 350◦F for 8-15 minutes on each side. This may also be fried in a skillet if preferred. Serve warm.
*OR 4 Tbsp yeast paste +1/3 c water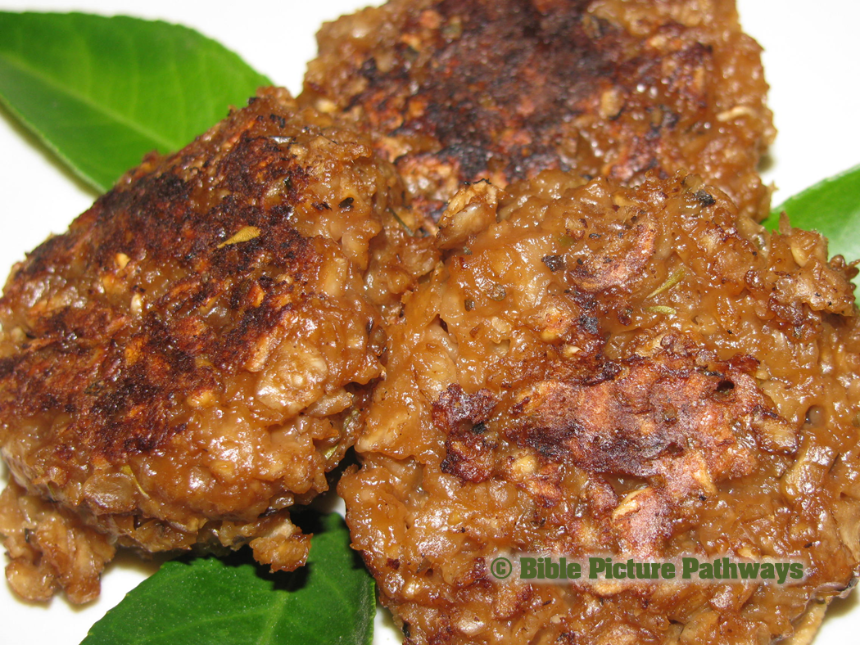 Gluten-free Breakfast Strips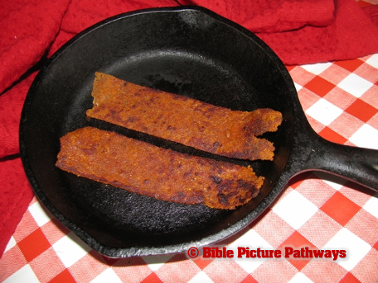 ½ tsp salt ½ tsp paprika
Dash turmeric 1 cup water
½ cup quinoa ½ tsp Pero
Cook together until quinoa has absorbed all liquid approximately 15 minutes.
Place in food processor with:
2-3 Tbsp coconut oil ½ 6oz.can tomato paste
1 ½ tsp onion powder 1 tsp beef-style seasoning
Process until well mashed.
Remove from food processor and add.
¼ cup garbanzo flour ¼ potato flour
Roll out thin using garbanzo flour to prevent sticking. Cut into strips. Fry in skillet using coconut oil or bake, if preferred, until lightly browned.
Tip: These may also be torn and dehydrated to make your own Baco-bits
All recipes and pictures © Bible Picture Pathways (Parent organization of Swift Runner Ministries)--Not to be used for commercial gain