¼ cup oil
1 cup sucanat, coconut sugar or cane juice crystals*
2/3 cup soy or nut milk
¼ cup quick oats
½ tsp vanilla bean powder
1/8 tsp salt
½ cup small wild blueberries
1 c flour (1/2 cup ww, ½ cup unbleached OR 1 cup soft white wheat)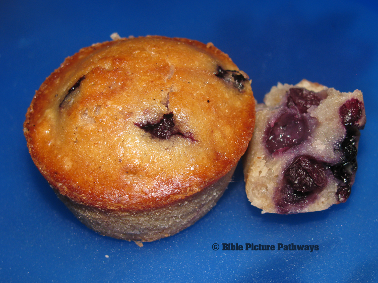 Preheat oven to 350 ºF (175 ºC) This step is important since the muffins are unleavened. The hot oven will slightly fluff them. Cream sugar and oil. Add milk and vanilla. Add quick oats, flour, and a pinch of salt. Fold in wild blueberries. Pour into oiled or silicone mini muffin pan. Bake at 350ºF (175 ºC) for 30 minutes or until well cooked and toothpick comes out clean. (Make sure the middle is done.) Yield: About 18 mini muffins or about 12 muffin tops
*Coconut sugar and sucanat will yield a darker muffin; cane juice crystals a lighter one. I think my favorite combination is ½ cup coconut sugar ½ cup cane juice crystals.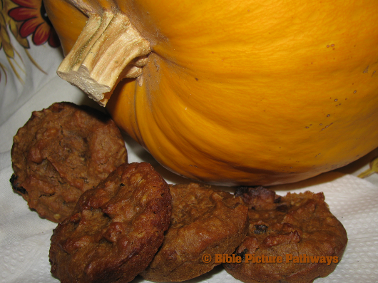 1 c. cooked or canned pumpkin
1 cup ww or spelt flour
2/3 cup sucanat
½ cup quick oats
1/3 cup olive oil
½ tsp salt
½ cup soymilk
1 tsp cinnamon
¼ cup raisins
¼ cup chopped nuts
Mix wet ingredients together. Add the dry ingredients. Spoon mixture into oiled muffin tins. Bake at 350ºF for about 30 minutes or until done. Makes 18 muffin tops.
All recipes and pictures © Bible Picture Pathways (Parent organization of Swift Runner Ministries)--Not to be used for commercial gain