Seasonings, Notmeats, and Made-from-Scratch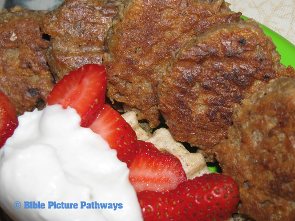 1/4 cup Sesame Seeds 1/4 cup Walnuts
1 cup Hot Water 1 TBSP Beef-like Seasoning
1 1/2 TBSP Mock Aminos 1 tsp Garlic Powder
1/2 tsp Salt 2 TBSP Olive Oil
3/4 cup Quick Oats 1 tsp Italian Seasoning
2 TBSP Chia Seeds 2 tsp Onion Powder
1 TBSP Nutritional Yeast 1 tsp Wright's Liquid Smoke*
1/2 cup Gluten Flour
Blend sesame seeds, water and walnuts together. Pour in bowl and add the rest of the ingredients, saving gluten flour until last. Using a cookie scoop, place small portions on a baking sheet. Flatten. Bake at 350°F (180°C) until partially crispy on the outside. Often we make these and then fry them up for breakfast, slice for fajitas or even make larger "burgers" for sandwiches.
*Wright's Liquid smoke contains only water and vegan smoke flavor. Other brands may contain vinegar or other chemicals. If you cannot obtain this brand, you might try adding Pero or another caffeine-free cereal coffee powder.
Mock Lawry's Seasoning
1 cup salt 1/3 cup organic sugar
1/3 cup paprika 3 Tbsp garlic powder
2 Tbsp onion powder 1 Tbsp celery seed
Blend.
Beef Style Seasoning
½ cup salt ¼ cup nutritional yeast
½ cup sucanat 1 Tbsp organic cornstarch
½ Tbsp celery seed ½ Tbsp onion powder
½ Tbsp garlic powder 1 tsp roasted carob powder
Blend until powdery. For a no nutritional yeast variety-Use ¼ cup corn flour and increase onion powder to 1 ½ Tbsp.
Chick-N Seasoning
1 cup nutritional yeast flakes ¼ cup salt
¼ cup organic sugar 1 tsp thyme
1 Tbsp onion powder 1 ½ tsp garlic powder
3 Tbsp parsley
Blend until powdery. Store in an airtight container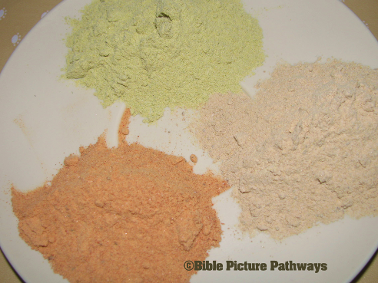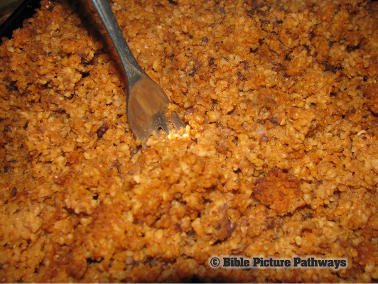 2 cups bulgur wheat
½ medium onion, in pieces
1 qt. canned tomatoes OR 1 can tomato paste (6 oz.) and 3 cups water
2-3 garlic cloves
1 cup walnuts
1 Tbsp vegetable salt
2 Tbsp molasses
Place the wheat in a sauce pan. Place the other ingredients in a blender and blend until smooth. Add to wheat. Simmer approximately 20 minutes or until wheat kernels are soft and liquid is absorbed, stirring occasionally. On a cookie sheet, bake at 250-275◦F for 45- 60 minutes or until it is a loose burger-like consistency. Stir occasionally. Do not overcook. Remove from oven while still moist. FREEZES WELL. I usually make a double batch and keep it on hand.
All recipes and pictures © Bible Picture Pathways (Parent organization of Swift Runner Ministries)--Not to be used for commercial gain