Dressings, Dips and Cheeses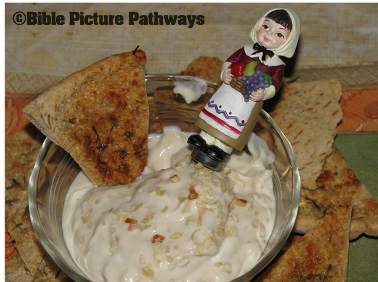 1 box (12.3 oz) firm silken tofu
Blend with approximately 3 Tbsp of oil and 3 Tbsp of lemon juice
Remove from blender and stir in:
4 tsp vegan beef seasoning
1 tbsp minced onion
2 tsp onion powder
Serve with crackers, veggies, or pita chips
1 ½ cups cashews, raw
3 Tbsp lemon juice
1 tsp onion powder
2 cups water
2 Tbsp nutritional yeast
1 tsp garlic powder
1 ½ tsp salt
1 Tbsp basil
1 tsp each, thyme, parsley, chicken-style seasoning
Boil water and agar for 5 minutes. Blend all the ingredients. Pour into molds and chill. We use this as a spread on bagels, artisan bread or crackers.
(You may replace cashews with almonds and add
a Tbsp of olive oil)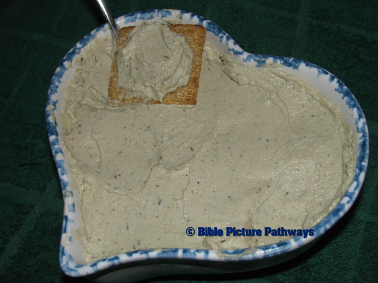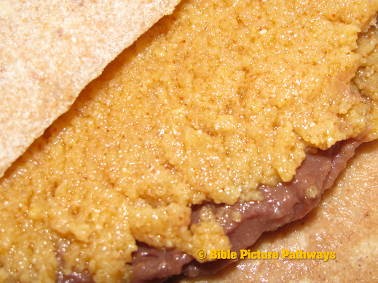 1 c. water
½ cup cornmeal, very fine
¼ cup olive oil
1 tsp paprika
1 tsp salt
1 tsp onion powder
1/2 tsp garlic powder
1 tsp lemon juice
Cook in pan on stovetop or over fire until thickened. Good on bread or crackers.
All recipes and pictures © Bible Picture Pathways (Parent organization of Swift Runner Ministries)--Not to be used for commercial gain